WECO GRAND RUBY (SINGLE SIZE)
---
Availability:In Stock

Brand: WECO

Product Code: WECO GRAND RUBY (SINGLE SIZE)

HIGHSTREETcoin: 5560

Points to redeem: 111200
---
COMPLIMENTARY FREE GIFT
2 piece of Latex Fushion Pillow
Bedframe is not included !!
Product description:
For those who insist upon the finer things in life, Honey Grand Silver will be the one which offering you the sleep like you are never experienced, leading to more wide-awake days. To do that, Honey Grand Silver contains all the latest technologies in it.
- Natural Latex
- Teflon Fabric
- 6 Years Warranty
- Reduce Back Pain




Product Structure: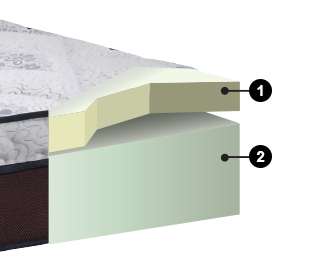 1 - Natural Latex
2- Polyurethane Foam
Dimensions: 90 CM (L) X 191 CM (W) X 28 CM (H)
We provide FREE delivery to the whole West Malaysia and Singapore
Complimentary Free delivery:
1. Klang Valley (no minimum purchase)
2. Other State (minimum RM5,000 purchase)
If other state purchase under RM5,000, pls refer to the below for different state delivery charges:
1. Perlis RM 1200
2. Kedah RM 1000 - RM 1200
3. Penang RM 900
4. Perak RM 350 - RM 750
5. Perak Gerik RM 1100
6. Negeri Sembilan RM 250 - RM 400
7. Johor RM 700 - RM 1200
8. Pahang RM 250 - RM 900
9. Terengganu RM 900 - RM 1300
10. Kelantan RM 900 - RM 1300
(i)Our products are made-to-order basis. We require at least 2-3 weeks for production and 1 week for logistic arrangement (except peak season such as Chinese New Year).
(ii)If you require your products in an urgent basis, please kindly contact our customer service or support to check if special arrangement can be made to accommodate your timeline before purchase is made.